Origami: How to fold an Umbrella
SPONSORED LINK

An Umbrella is a necessary item in a rainy day.
I can be happy when I open my favorite umbrella
even if the weather makes me depressed.♪
Let's make our original umbrella with our favorite patterned origami paper!★
How to fold an umbrella Ver.1
This is the way using one sheet of origami paper.★
If you fold the handle part, placing one upon another neatly,
it will be even prettier.♪
1.Get a sheet of origami paper ready.  Fold it in half.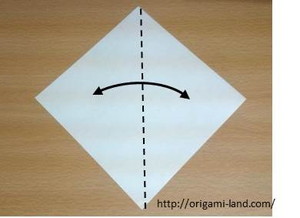 2. Fold both sides to the middle along the dotted lines.
<a href="http://origami-land.com/wp-content/uploads%2
SPONSORED LINK